Live and learn! Your new guests, Professor Knowledge and Librarian Philip O'Book, consider this phrase their credo. They came to the Island to revive the craving for reading and knowledge in people, and they are ready to do anything for this! With your help, and with the help of a Mystery Lady, they are going to build a magical library in which even books will fly! You think it's impossible? See for yourself! Exchange gifts with the holiday guests and take part in the tournament. Complete all the quests on time and become the owner of the luxurious Home of Knowledge!
Place your Street Library!
Complete the event quests and place a unique Street Library decoration on the Island: It will bring you Questions to exchange with the holiday guests. You can also win Questions in the Lucky Boxes mini-game, and receive these for completing daily quests.
Note that Questions are only available to you during the event!
Receive gifts from special guests!
In exchange for your Questions, Philip O'Book will happily give you Vintage Boxes containing Empty Pages, Inkwells and Wind Up Keys.
Professor Knowledge did not come empty-handed either. In exchange for Questions, you will receive Travel Suitcases, inside of which are Inkwells, Sets of Types and Wind Up Keys.
Collect Wind Up Keys!
A Mystery Lady came to visit your Island. Although, if she does not immediately reveal her name, she is ready to give you the Tapestry Bag, filled with Wind Up Keys, in exchange for energy. You'll need the Keys to play the Lucky Jars mini game and receive prizes. Don't forget that you can also find Wind Up Keys in Vintage Boxes and Travel Suitcases.
Note that the Mystery Lady will only give you a Tapestry Bag once every four hours.
Play the Lucky Jars mini game!
The Street Library never ceases to surprise us! You can find Lucky Jars with prizes there, and it is up to you to decide which one to open. The rules are the same as in the Lucky Boxes. Stock up on the Wind Up Keys to play Lucky Jars more often!
In the Lucky Jars mini game, you will have several attempts. If you did not manage to open the best Jar at first, do not be discouraged: Use the crystals to get additional tries.
Collect holiday resources!
Trade with guests, complete daily quests and gain holiday resources. These will help you build and improve the unique "Day of Knowledge" event buildings!
Please note: You can only get the resources during the event. If you accumulate extra resources, you can always exchange them for useful Helmets. To do this, find the seller Sam Watchyerhead on the Island.
Send holiday greetings to your friends!
Send them unique gifts!
Build and upgrade the festive building!
Complete the Day of Knowledge quests, collect the required amount of holiday resources and park the Bookmobile on your Island. Upgrade it to level 3, and it will turn into the Home of Knowledge, where you can conduct exciting events!
Get holiday accessories!
Complete the Day of Knowledge stages to receive unique accessories as a gift. Use these to reduce the chance of a building breaking down.
Day of Knowledge accessories:
Light of Knowledge
Reduces the chance of a building breaking down by 15%.
Light of Science
Reduces the chance of a building breaking down by 40%.
Light of Truth
Reduces the chance of a building breaking down by 70%.
Complete the event and gain prizes!
Complete all the Day of Knowledge event quests on time to become the owner of the Home of Knowledge and a golden figurine!
The adventures continue!
Complete all the Day of Knowledge stages and you will gain access to the continuation of the story, the Looking for Inspiration adventure. Only during this event will you be able to find out who the Mystery Lady really is! Hurry to complete the story in time and become the owner of the fantastic Flight of Fancy Brig, where you can hold classes of imagination and creativity. In addition, you will receive an elite statuette and a special Light of Inspiration accessory as a reward.
Light of Inspiration
Reduces the chance of a building breaking down by 90%.
Hold Games of Association and Creative Workshops on board the Flight of Fancy Brig to gain a special Pocket Astrolabe resource.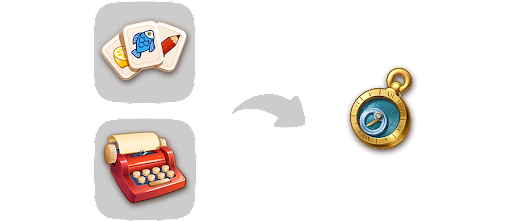 You'll need a Pocket Astrolabe to hold a Dreamers' Convention on the Flight of Fantasy brig. For this event, you will receive a Chest of Books containing many unique and useful items.
Stack up on Festivity Florins and purchase unique buildings!
Once you get enough Festivity Florins, you'll be able to buy one or more unique buildings from the Holiday Display at the store.
Please note: the offers on the Holiday Display are unique for each and every player.
Create chests in your Workshop!
If you accumulate too many holiday resources, you can use them in the Workshop to create useful chests.
Note that you can only use holiday resources in your Workshop while the Day of Knowledge event is on.